Fried Rice with Grumpy Gary's Garlic Hot Sauce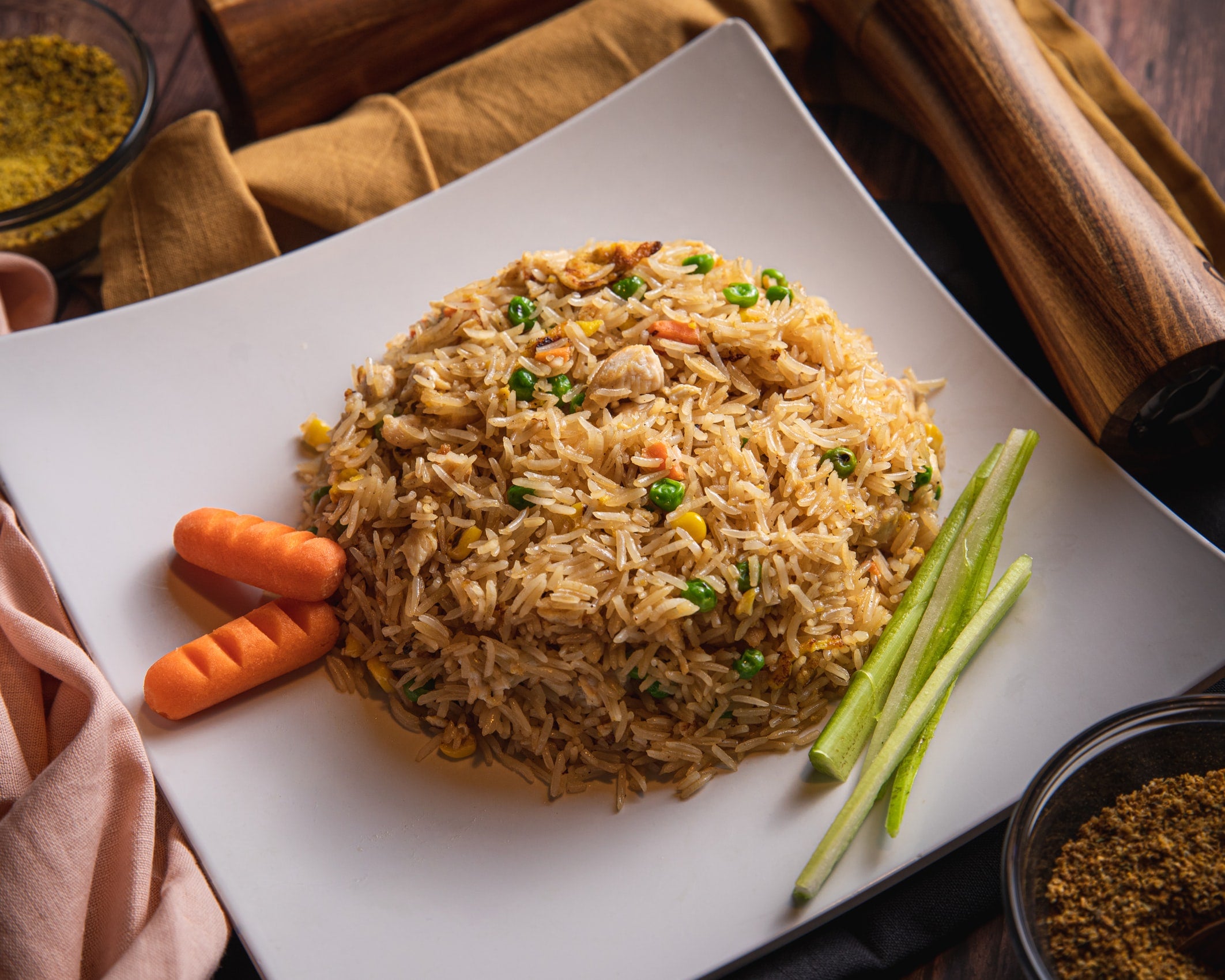 Looking for a fried rice with a slightly spicy touch that makes all the flavours in your mouth sing? We got you. If you've got yourself a bottle of our Garlic Hot Sauce in the fridge, bring that baby out for a whole new food experience. 
This perfect weeknight Fried Rice recipe not only takes a quick 25 - 30 minutes to prep, but it's loaded with scrambled eggs, vegetables, and our go-to hot sauce. Serve it as a side dish, or have it as a main course! We won't judge.
Fried Rice with Grumpy Gary's Garlic Hot Sauce

You will need:

2 tbsp. extra-virgin olive oil

3 chicken breasts

Salt

Freshly ground black pepper

2 tbsp. sesame oil, divided

1 medium onion, chopped

2 carrots, peeled and diced

1 tbsp Grumpy Gary's Gar-lick dip

1 tbsp. freshly minced ginger

4 cups leftover white rice

3/4 c. frozen peas

3 large eggs, beaten

3 tbsp. low-sodium soy sauce

3 tbsp Grumpy Gary's Garlic hot sauce

3 tsp oyster sauce

2 green onions, thinly sliced
Makes: 4 servings

Method


Season chicken breasts with salt and pepper on both sides and set aside.



In a medium skillet over medium heat, heat olive oil. Add the seasoned chicken with salt and pepper on both sides then add to skillet and cook until browned with no more pink bits.  Remove from skillet and cut into bite sized pieces.



To the same skillet, heat 1 tablespoon sesame oil. Add onion and carrots and peas and cook until soft - around 6 mins.  Add Grumpy Gary's Ga-lick dip or garlic and ginger and cook for another 1 min. Stir in rice and all sauces and cook another 2 mins, till the rice is fully warmed through.



Push rice to one side of skillet and add remaining tablespoon sesame oil to other side. Add egg and stir until almost fully cooked, then fold eggs into rice. Add chopped chicken back to skillet with the green onions and stir to combine.
Try our Garlic Hot Sauce risk-free! Don't like it? We do a 100% money back guarantee!