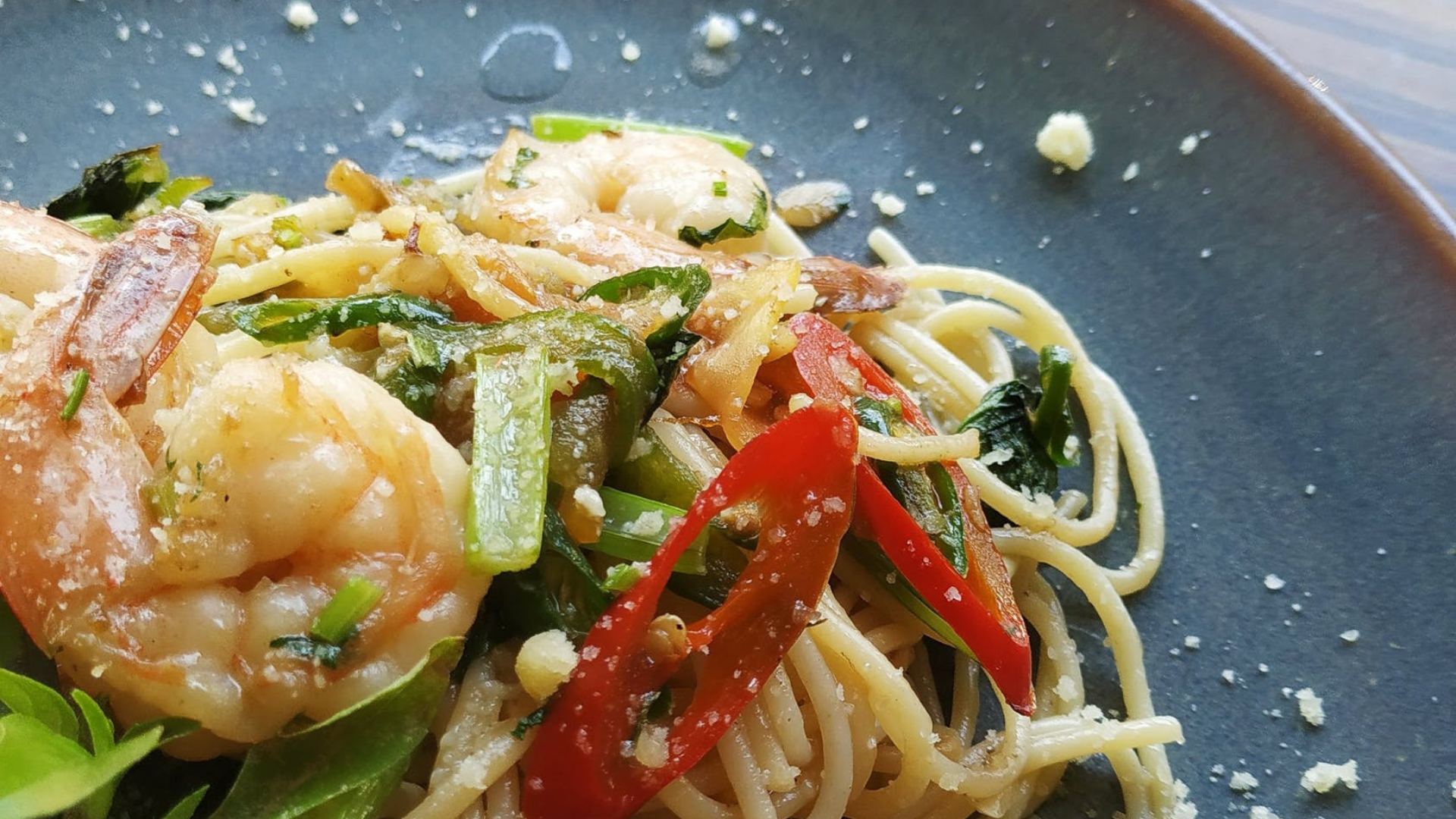 Looking for a quick scrumptious dinner to cook for the family? This Gar-Lick Prawn Spaghetti is packed to the rim with garlic goodness! A perfect hot meal for those cold winter nights. 
We would recommend saving the left overs for lunch the next day to serve as a speedy midweek meal, it'll have you looking forward to lunch time! Don't believe us? Try the recipe out for yourself! 
Prep time: 10 mins
Cook time: 20 mins

You will need:

400gm 

prawns -

 

peeled, deveined, tails on

3 

Tbsp

 

butter

3 Tbsp Grumpy Gary's Gar-lick Dip

2

 

Tbsp grated shallots

2

 

tsp

 

minced red chili pepper

220 gm spaghetti, uncooked

¼

 

tsp

 freshly ground black pepper

½

 

tsp

 salt

1

 

Tbsp

 

parsley

 

chopped

1 fresh red chilli, chopped (optional)
Makes: 4 servings

Method


Mix the prawns with salt and pepper in a bowl and set aside.



Meanwhile, cook the spaghetti as per the instructions on the package.



In a large skillet, melt 1 tbsp butter and 2 tbsp of Gar-lick dip.  Add the prawns and sear for 1-2 minutes on both sides or until cooked. Transfer the prawns to a clean bowl or a platter and set aside.



In the same skillet, over medium heat, melt 2 tbsp of butter and sauté the grated shallots, and red chili (optional) until soft, for about 2-3 minutes.



Add the remaining 2 Tbsp of Gar-lick dip in the skillet and let it melt. Once melted, add the cooked pasta and toss well.



Add the cooked shrimp, toss again and cook for another 2 mins, to heat the prawns again and the flavours distribute.



Plate up your masterpiece and garnish with the chopped parsley and red chilli peppers (optional)
Try our Gar-Lick Dip risk-free! Don't like it? We do a 100% money back guarantee!